The Queer Experience as Told Through Taylor Swift
Swift's music intricately traces what it's like to navigate life and love as a queer person in a society that stifles.
June 7, 2022
Many things come to mind when one utters the name Taylor Swift: bold, confessional storytelling drenched in emotions that explode like fireworks; a star-studded stockpile of ex-boyfriends and broken hearts; and, most notably, love songs that latch themselves onto your heartstrings and never let go. It's undeniable that Swift has cemented herself in the music industry as a sort of frontwoman for love. She has proven, from "Our Song" to "All Too Well," ability to capture all the shades and hues of the romantic experience in vivid detail—the butterflies in your stomach as you and your lover dance around the kitchen in the refrigerator light, the tears that stain your pillowcase on the night of a scathing heartbreak. 
Her songs have sculpted what love means to an entire generation of youth, but how universal are they really? Because to much of the public, Taylor Swift is very much a straight person feeding us melodramatic tellings of straight relationships. And while my playlists in middle school were packed to the brim with her ballads and break-up anthems—as a closeted queer kid, I never felt represented in her music. The images of princes on white horses made me roll my eyes, and though I never hesitated to sing-scream the chorus to "Love Story" alone in my bedroom, who I wished would "save me" was not Romeo but Juliet. 
What I later realized, however, was that Swift weaved her song in a way that lets you choose if you want to be with the prince or the princess. Throughout "Love Story," the narrator makes quicksilver switches between the perspectives of Juliet and Romeo ("you were Romeo, I was a Scarlet Letter, and my daddy said stay away from Juliet"), removing the anchor of explicit gender assignment and opening a gate to queer readings. Moreover, the very theme that colors the song—a love fettered by the norms and expectations of society—is pretty gay in itself. This revelation prompted me to don rainbow-tinted glasses and dig through her catalog at length, one I found to be teeming with themes of forbidden love, secrecy, and longing. If we unravel her discography song by song, we'll discover that Taylor Swift has carved out the most prevailing, often devastating definitions of the queer experience.
I don't want to keep secrets just to keep you
Keeping secrets—hiding who you are, who you love—is a core part of the queer experience and an excruciating one at that. Even if we've made it far in terms of LGBT+ acceptance in society since Stonewall in 1969, queer people who come from homophobic families or conservative communities might be putting their safety at risk if they decide to live authentically. This risk is even more extreme in countries where gay people are criminalized and even killed for being who they are. As a result, they have to conceal their same-sex relationships—subjected to secret touches, stolen glances, and clandestine meetings in the dead of night.
---
Cruel Summer (Lover)
Said "I'm fine," but it wasn't true
I don't wanna keep secrets just to keep you
And I snuck in through the garden gate
Every night that summer just to seal my fate
And I scream for whatever it's worth,
"I love you," ain't that the worst thing you ever heard?
---
Love Story (Fearless)
So I sneak out to the garden to see you
We keep quiet, 'cause we're dead if they knew
---
illicit affairs (folklore)
Make sure nobody sees you leave
Hood over your head, keep your eyes down 
Tell your friends you're out for a run
You'll be flushed when you return
---
Treacherous (Red)
Put your lips close to mine
As long as they don't touch
---
You Are In Love (1989)
One look, dark room
Meant just for you
---
It's Nice to Have a Friend (Lover)
Light pink sky up on the roof
Sun sinks down, no curfew
Something gave you the nerve
To touch my hand
---
As you can see, Miss Swift's discography overflows with songs that embody queer secrecy. However, none are as evocative as "Dress" from Reputation:
---
Dress
Our secret moments in a crowded room 
They've got no idea about me and you
…
Say my name and everything just stops 
I don't want you like a best friend
Only bought this dress so you could take it off
…
Everyone thinks that they know us, but they know nothing about 
All of this silence and patience, pining and desperately waiting
My hands are shaking from holding back from you
---
This song easily reads as two women in a secret relationship who cloak themselves as "best friends" and "gal pals" in front of others. Yet beneath, they don't want each other "like a best friend," far from that. Swift speaks to all the queer people who's had to hold back from touching their partner's hand in front of unaccepting family or friends. Though all we want is to shout out our love from the rooftops, society often forces us to swallow our happiness and hold it inside until it burns.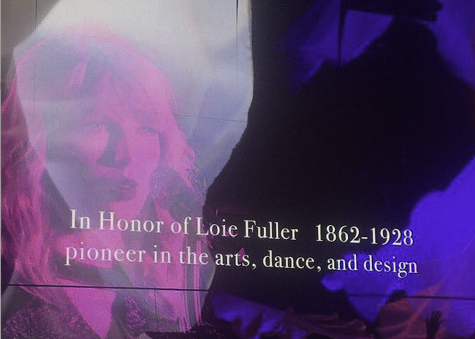 During the Reputation Stadium Tour, Swift actually dedicated her performance of this song to Loie Fuller, an open lesbian who pioneered the modern dance movement. Fuller was also known for being at the heart of a wider movement in which queer women in art were finding their voice and lifting the veil on who they are and who they love—something all of us in the closet ache to do.
"New Year's Day," the closing track on the same album, brings home the sting of having to hide who you love:
---
New Year's Day
There's glitter on the floor after the party / Girls carrying their shoes down in the lobby
Candle wax and Polaroids on the hardwood floor / You and me from the night before
Don't read the last page / But I stay when you're lost, and I'm scared, and you're turning away
I want your midnights / But I'll be cleaning up bottles with you on New Year's Day
---
While this song is already touching at surface level, it gets streaked with heavier feelings of heartbreak and hope once placed under the queer lens:
Kissing your lover in front of a crowd when the clock strikes midnight at a New Year's Eve party. Everyone cheering. Your family and friends toasting their glasses of champagne to your relationship, wishing you both to continue loving each other in the new year.
All that is a luxury queer couples in unaccepting communities/countries cannot afford (and it hurts). They can only clean bottles together in the morning when the party's over, finding sanctuary in the small slivers of space and time when nobody's watching. Even so, there's still a lingering promise to stay with each other no matter how suffocating the closet, how treacherous the road. 
But what if that promise is broken? That brings us to another aspect of hiding your love: you have to hide your heartbreak. "The Very First Night" from Red (Taylor's Version) captures this frustration to a T. (This song has also stirred discourse among fans over its potential queer implications and the use of "you" when "her" would have actually fit the rhyme.)
---
The Very First Night
'Cause they don't know about the night at the hotel
They weren't riding in the car when we both fell
Didn't read the note on the polaroid picture
They don't know how much I miss you 
---
When I broke up with my first girlfriend, I couldn't confide in my parents, sister, or friends at school about my loss because, well, they didn't even know I liked girls. I couldn't tell my (very Asian) family because I knew they wouldn't accept me, and I didn't tell my (very "normie") friends for fear that they'd see me or treat me differently. In the end, I had to suffer alone, shrugging and replying "oh, I had a fight with a friend – it's nothing" when my parents asked why I was tearing up at the dinner table. Being closeted is a special kind of hell, but it's a painful reality many queer people live today. Happiness or sadness—we have to bury both.
In 2018, Swift performed "Delicate" with lesbian singer Hayley Kiyoko at a benefit for the LGBTQ youth organization The Ally Coalition; it's a sincere song with themes that have resonated with many queer fans.
---
Delicate
Is it cool that I said all that?
Is it chill that you're in my head?
'Cause I know that it's delicate (Delicate)
Is it cool that I said all that?
Is it too soon to do this yet?
'Cause I know that it's delicate
---
Love in itself is delicate, but it's even more so when society could shatter it at any given moment. The terror that brings can manifest itself into dollops of self-doubt and insecurity that cloud your vision when entering a queer relationship, especially for the first time. More fuel is added to the fire when you realize you grew up in a heteronormative culture and have no standard to compare it to, no one around to guide you or give you advice. This is exactly why having LGBT spaces online is important, but again, queer people in less privileged countries or situations might not have access to internet/social media is heavily censored. If you have no idea what the "right" things to do are when navigating a relationship…you're left constantly questioning, "Is it cool that I said all that? Is it too soon to do this yet? Is it okay that I'm even in love with you? Because people have been telling me that it's wrong, that it's a sin, my whole life."
Ultimately, the trial of hiding who you love is not without the staggering possibility of being found out. In "Dancing With Our Hands Tied"—the track that immediately follows "Dress" on the Reputation album—Swift voices this fear with a heart-wrenching disquiet.
---
Dancing With Our Hands Tied 
I, I loved you in secret / First sight, yeah, we love without reason
…
I could've spent forever with your hands in my pockets / Picture of your face in an invisible locket
You said there was nothing in the world that could stop it / I had a bad feeling
…
Darling, you had turned my bed into a sacred oasis / People started talking, putting us through our paces
I knew there was no one in the world who could take it / I had a bad feeling
…
I, I loved you in spite of / Deep fears that the world would divide us
So, baby, can we dance / Oh, through an avalanche?
---
Here are some of her other songs that articulate the anxiety of getting outted when hiding a queer relationship, as well as the dread of being torn apart.
---
Wonderland (1989)
Haven't you heard what becomes of curious minds? / Oh, didn't it all seem new and exciting?
I felt your arms twisting around me / I should've slept with one eye open at night
…
So we went on our way / Too in love to think straight
All alone, or so it seemed
But there were strangers watching / And whispers turned to talking
And talking turned to screams, oh
---
Run (Red, Taylor's Version)
There's been this hole in my heart
This thing was a shot in the dark
Say you'll never let them tear us apart
And I'll hold onto you while we run
Like you'd run from the law        
---
Love Story (Fearless, original lyrics)
Romeo, take me somewhere we can be alone
I'll be waiting, all there's left to do is run
Romeo, save me, they're tryna tell me how to feel
This love is different, but it's real
---
ivy (evermore)
Clover blooms in the fields / Spring breaks loose, the time is near
What would he do if he found us out?
Crescent moon, coast is clear / Spring breaks loose, but so does fear
He's gonna burn this house to the ground
…
How's one to know? / I'd live and die for moments that we stole
On begged and borrowed time
So tell me to run / Or dare to sit and watch what we'll become
And drink my husband's wine
A little bonus fact: This song is regarded to be the Taylor Swift sapphic magnum opus and is widely speculated to be about poet Emily Dickinson and her secret female lover Sue Gilbert. Highly, highly recommend you take a closer look into it here and here!
---
I Know Places (1989)
You stand with your hand on my waistline / It's a scene and we're out here in plain sight
I can hear them whisper if we pass by / It's a bad sign, bad sign
…
Something happens when everybody finds out / See the vultures circling, dark clouds
Love's a fragile little flame, it could burn out / It could burn out
…
Just grab my hand and don't ever drop it / My love
They are the hunters, we are the foxes / And we run
---
A little bonus fact: The live choreography for "I Know Places" on Swift's 1989 World Tour involves moving in and out of (what can be interpreted as) closet doors.
Trying to keep your love behind closed doors all the time can be draining and intensely suffocating—causing many in hiding to yearn for a place where they, and their lover, can truly belong. The chorus of "the lakes," a bonus track on folklore, echoes this sentiment with a romantic, dreamlike quality.
---
the lakes 
Take me to the lakes where all the poets went to die
I don't belong / And my beloved neither do you
Those Windermere peaks look like the perfect place to cry
I'm setting off / But not without my muse
---
I'd like to shine a spotlight on that first line in particular: "take me to the lakes where all the poets went to die."
I feel like one of the reasons why poets and authors before us wrote was because of some feeling or experience that made them feel othered (being LGBT, mentally ill, etc). Considering how repressive society was back then…behind a wall of words was the only place they could express themselves freely, build a fire to keep warm, and shield themselves from people who stood outside with pitchforks. Writing was, and still is, a sanctuary.
That's why there are so many queer people today who make art and/or find deep comfort in it. It's a way for us to step into the daylight and finally see ourselves—really see ourselves—whether that be within sentences in a book, a painting on a canvas, characters on a movie screen, or lyrics in a song. It's also our way of fighting back, reclaiming who we are after years of feeling lost and invisible. Years of having our love and our identities locked behind a closed door. But we finally have the key.
I'd like to thank Miss Swift here for being my key, as well as the key for so many other queer people who have felt seen by her music. And as for the straight allies: start exploring art through the queer lens! You'll not only uncover so much more complexity in the meanings and broaden your perspective but also contribute to deconstructing the heteronormative filter that is so pervasive in our culture. We can all benefit from it.
Lastly, I hope this has helped you gain a better, more nuanced understanding of the hardships many queer people experience and all that they sacrifice to be who they are and protect who they love. Consciousness is important. In honor of pride month, I'll leave you with a speech from Taylor Swift herself:
"It's very brave to be vulnerable about your feelings in any situation, but it's even more brave to be honest about your feelings and who you love when you know that it might be met with adversity from society."

"This month and every month I want to send my love and respect to everybody who has been brave enough to be honest about how they feel, to live their lives as they are, as they feel they should be, as they identify."

"This is a month where I think we need to celebrate how far we've come, but I think we also need to acknowledge how far we have left to go. I want to send my love and respect to everybody who hasn't felt comfortable enough to come out yet…and may you do that on your own time, and may we end up in a world where everyone can live and love equally and no one has to be afraid to all say how they feel."