Kourtney Kardashian and Travis Baker's Wedding
On April 3 Kourtney Kardashian and Travis Baker got married in Portofino, Italy. This was their third wedding in the last few months. They had a civil ceremony and they also got married in Vegas.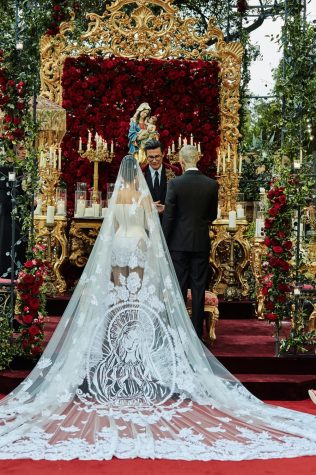 Their gothic themed wedding was in a historic Italian villa called Villa Olivetta and was hosted by Dolce and Gabbana. For the whole wedding weekend, they both wore Dolce and Gabbana outfits. Kourtney wore a lace and satin corset mini dress and her veil was a full length lace piece that was hand embroidered and depicted the Virgin Mary. She accessorized with tulle gloves and lacy high heels. Travis wore a black double breasted suit that was also designed by Dolce and Gabbana.
Keeping in line with the gothic theme, everyone in Kourtney's family wore Dolce & Gabbana.