Tom Brady: The Greatest to Ever Play (For 23 Years)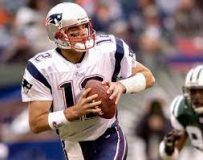 As of February 1st, 2023, seven- time Super Bowl champion and three time MVP, and widely considered the greatest of all time, Thomas Edward Patrick Brady Jr., has officially announced his retirement… again.
Exactly one year ago on February 1st, 2022, Tom Brady had announced his plan to retire after twenty-two years in the league. Only six weeks later he posted all over social media "Unfinished business" as he came out of retirement for his twenty-third season. But this time Tom says it's for real, so how good was the GOAT?
Tom Brady holds pretty much every passing record in the book, leading the league in all time passing yards, passing touchdowns, passing attempts, completions, regular season wins, playoffs wins, Super Bowl MVP awards, Pro Bowls, Super Bowl wins, and seasons played. He has the highest Hall of Fame Monitor score ever —a metric designed to calculate a players chances of getting into the hall of fame—  being only one of two QBs to have a score over 200, the other being Peyton Manning.
While he may be the greatest of all time, there is a debate to be made that he was scarcely the most dominated quarterback in the league. When Brady entered the NFL in 2000, till 2006, Peyton Manning was in a class of his own. Averaging over 4,000 yards per season, setting a single- season record of 49 passing touchdowns, winning 2 MVPs, and leading the league in passing yards and touchdowns twice. In this span, Tom Brady only led the league in a single passing stat, yet won 3 Super Bowls. 2007 was arguably Tom Brady's best season: he lead the league in passing yards, passing touchdowns, completion percentage, won the AP MVP award, and took away the passing touchdown record with 50. After that, Peyton was back to dominating from 2008-2015, winning another 3 MVPs, playing in 3 Super Bowls, and taking back his passing touchdown record with an unheard of 55, a record that still stands today. 2016 and 17 was a battle between Drew Brees, Tom Brady, and Aaron Rodgers– all before 2018 when Patrick Mahomes made his start.  Since then, he's averaged an NFL record 303 yards per game, won an MVP, Super Bowl, Super Bowl MVP, Offensive Player of the Year award, and has been to 5 straight Pro Bowls. In 2020 Joe Burrow took command of a battered Cincinnati Bengals and has now led them to back to back AFC Championships. In the NFC Jalen Hurts has taken his Philadelphia Eagles to their first Super Bowl since 2018 in just his third year.
Needless to say, while the GOAT may be leaving the league and settling down for a 10 year $75 million contract with Fox Sports, the NFL is still in good hands.