Class Spotlight: Cooking!
You may have smelled something delicious while doing one of your classes. You may have also seen students (seniors mostly) with Ronni in the kitchen. What are they doing? If it wasn't obvious enough, they're cooking and making some delicious food for the Village School to eat! But what goes on in the kitchen? What are they making next? 
Overview
Taught by math teacher Ronni Graf, this 4th period class cooks and prepares meals to teach themselves how to cook. When they're done with the meal they've been cooking, they either eat it themselves or give it away for the Village School to eat. In case the signs haven't told you already, this class is very serious. There are signs all over the kitchen that tell Village School to keep their pesky hands away from the ovens, microwaves, and fridge. But aside from the intimidating signs, what actually happens in the kitchen? At the start of fourth period, Ronni and her students drop their bags off in her room, head straight over to the kitchen, put on their aprons, and get the necessary equipment to get cooking their next big meal. Ronni helps teach the students how to cook the meal she wants them to prepare and how to perform certain culinary skills such as slicing cheese, cutting with a knife, and using other machinery that can help further the recipe. 
Kitchen Duties
When the students arrive they help set up the main table, where they will perform all of their cooking duties. They put a plastic cloth over it to prevent the tabletop from getting dirty, lay out the ingredients and tools to cook, and turn on the oven, should they need it to progress their meal. Multiple people can be assigned to do two things at once, or one all together, with students taking turns on performing tasks. For example, one half of the students, along with Ronni, could be working on making tomato sauce, crushing the tomatoes and adding flavor to it, while the other half sits back and observes or waits.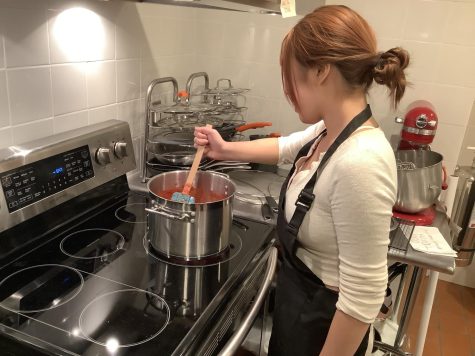 But aside from cooking, cleaning up is also a major part of the class. Before they leave for lunch, they need to clean up so they'll be working in a clean environment the next time they cook. Dirty and used items go in the sink, where they are either put in the dishwasher or cleaned by hands and soap, depending on the item. Objects such as forks, spoons, and dishes go in the dishwashers, where they can be easily cleaned. Objects such as big pots and other utensils that don't belong in a dishwasher are cleaned in a three step process at the sinks. First, the items are washed with water in the first sink. Once that's done, washed objects are put into the second sink to clean with soap and rinse with water. Then finally, objects are put onto the counter, where they are dried and back away where they belong. 
Over the course of the module, this class has made some delicious meals. Recently, the class made spaghetti and sauce, with the sauce taking the longest to make. Other stuff they made include vegetarian chili and crispy potatoes. So if there are any extra meals for you or your friends, stop by and take a meal, you will not be disappointed by the hard work Ronni and the cooking class put in.