Will Aaron Rodgers Save The Jets?
For the past decade, the New York Jets have been the punchline of the NFL. They are holding onto the longest playoff drought in the league, with their last appearance being the 2010-2011 AFC Championship game on January 23rd, 2011.
Since then, the Jets have had 14 different starting quarterbacks, four head coaches, four general managers, four top 5 draft picks, a dismal winning percentage of just over 36 percent, and a single winning season. Moreover, they have scored the least touchdowns and gained the least first downs and total yards in the league.
To put that into perspective, the last time the Jets played in the playoffs—the iPhone 3Gs was the most popular phone, Carlos Slim was the wealthiest man in the world, Barack Obama was just two years into his presidency, and Bitcoin cost just .44 cents. And Vince Young was still a starting quarterback.
Last year the Jets saw significant improvement under second-year head coach Robert Saleh and fourth-year general manager Joe Douglas—due largely to the contributions of rookies of the year, wide receiver Garret Wilson, cornerback Sauce Gardner, and several other young standouts. But the quarterback was still an uphill battle.
"With the second pick, in the 2021 NFL Draft, the New York Jets select, Zach Wilson, Quarterback, BYU."
Yeah…this didn't work out how they had hoped…
Since entering the league, Zach Wilson has been compared to Demarcus Russel as one of the biggest QB busts in NFL history. Wilson has thrown 18 interceptions to only 15 touchdowns and missed far too many routine passes for an NFL quarterback. While his future has yet to be written, Jets fans yearn for at least a semi-competent quarterback. Not next year, not in a few years, now.
But that's where four-time MVP, ten-time pro-bowler, and Super Bowl Champion Aaron Rodgers enters the picture.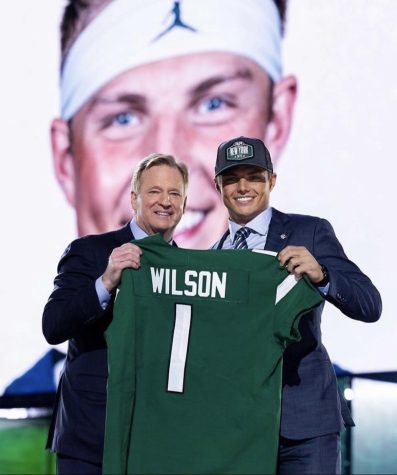 After two consecutive MVP seasons, Rodgers had a slight regression last year. After the lowest yards per game in his career and throwing his most interceptions since the Jets were in the playoffs, the Packers are ready to part ways with Rodgers and move on to the 2021 first-round pick Jordan Love.
While Rodgers may be on his way to retirement in just a few seasons, he still has a little gas left in the tank. Not only will bringing in Rodgers give a new life to the Jet's offense, but it will also provide Zach Wilson with a Veteran QB mentor to watch and learn from. It is evident that the Jets are betting on Rodgers to succeed in NY, already bringing in seasoned wide receivers Allen Lazard and Mecole Hardman to rebuild their offensive line.
So will A-Rod live up to the hype in the Big Apple? Or will he follow the same path as his mentor Brett Favre? Like Rodgers, Farve spent over a decade in Green Bay before being traded to the New York Jets and cut after one disappointing season. He was subsequently picked up by the Minnesota Vikings, the team he would later retire with.
However, the Aaron Rodgers situation is different. First of all, Rodgers is better than Favre; yes, I know, this is a slightly controversial take for some, but it's true. Having less than a third of the interceptions through his first 19 seasons while averaging 20 more passing yards per game, Aaron Rodgers is better than Favre. And second, the Jets have Zach Wilson, a plan for the future.
While Wilson has not been a good, or even decent, starting QB in his first two years, he does have potential. With proper coaching, play calling, and mentoring, his arm strength and mobility combo are a superstar's foundation. Wilson and Rodgers are already known to be good friends, with Rodgers being somewhat of a mentor to Zach already. Bringing in A-Rod to lead the Jet's offense and set an example for young Wilson will not only give Jets fans something to look forward to this coming season. But will also leave the Jets with their quarterback of the future.
Zach is in the 3rd year of his 4 years, 35.2 Million Dollar, fully guaranteed contract. In 2025 the Jets can enable his 5th-year option or send him to free agency. While it may seem unlikely the Jets would pick up this 5th year's option, if they land Rodgers, after 2 years of watching and learning from A-Rod, it is a better and more enticing option than drafting or trading for a new starter.
On top of that, Zach Wilson has yet to be given a chance to shine. During his first two years, he's struggled with injuries, offensive coordinator problems, a poor and constantly changing offensive line, and a carousel of wide receivers, some of which actively protested him starting. On top of that, after Mike White came in and became New York's very own Superman, Jets fans have been ready to move on from Wilson. At the very least, this situation can be very demoralizing for a young player.
So will Aaron Rodgers save the Jets?
The Jets bringing in A-Rod will snap their playoff drought and make them an instant contender. It will also likely set up Zach Wilson for success, allowing the Jets to finally have a franchise quarterback.