Jazz Spotlight : Chet Baker
Chesney Henry Baker, better known as Chet Baker, is a jazz icon of his and our time. He was an American trumpeter and vocalist known for the plaintive, fragile tone of both his playing and singing.
Chet began his career in the 1950s and quickly became a prominent figure in the jazz scene. Baker relished living the fast life; he had a well-documented heroin addiction and increasingly erratic behavior, which helped define his career in his later years.
Chet embodied the classic jazz story of romanticism and tragedy intertwined. The charisma he exuded in his earliest performances still grabs listeners' attention today. He was even nicknamed in his time as "the prince of cool." Sadly, Chet had an untimely death in 1988 at 58, apparently falling from his second-story window at the Hotel Prins Hendrik in Amsterdam.
Chet's Discography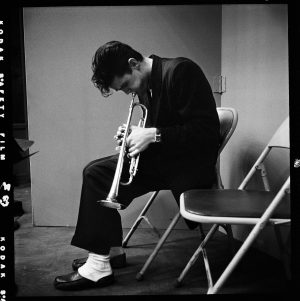 Chet Baker has a very long discography ranging from 1952 to 1988. His most outstanding albums include It Could Happen to You: Chet Baker Sings, Chet Baker In New York, and Chet Baker Plays The Best of Lerner and Loewe. My favorite is It Could Happen To You: Chet Baker Sings. That is the album I will be talking about.
It could happen to you: Chet Baker sings

Riverside Records wanted to cash in on Chet Baker's popularity as a vocalist, so they chose It Could Happen To You: Chet Baker Sings as the first project for his new label. Chet's almost falsetto singing style is singular among jazz vocalists, and with It Could Happen To You, he brought his singing and artistry to new extraordinary heights. Some of my favorite songs on the album are "I'm Old Fashioned," "It Could Happen To You," "Everything Happens To Me," and "How Long Has This Been Going On."