This Week's Advice Is All About Navigating Relationships and People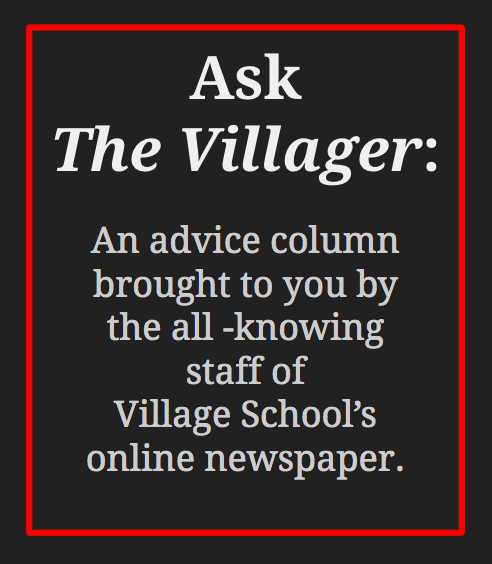 This week's advice is brought to you by Kayla Oh

"Why do students date if they might go separate ways in the future?"
When I was dating, I was convinced that it would last forever, and I'm sure that runs through everyone's heads when they first start dating. I can say that there's a number of reasons why students choose to date despite the looming reality that it may not last. It could be that they want to live the fantasy of teenage romance that adults constantly feed us. Sometimes this gives them an obligation to get into a relationship or lose their virginity before graduating, even though doing none of those things is perfectly normal. They don't want to think that they're missing out on their "golden years." Another reason would be that at that time you want romantic affection, and some people take it at any chance they can get. It's a powerful thing to be wanted, and I don't blame people for chasing that aspect in life. 

"How to get someone to tell you something they don't want to tell you"
Try telling them more personal things about yourself in one on one conversations. If they see that you're open and trusting, they're going to want to be the same. If they feel uncomfortable talking about it then it's good to drop the subject. Once they've established boundaries it will be difficult to get past them if you keep on trying to pry them apart. 

"The guy from North that was going to the prom there with me doesn't want to go with me anymore because he's heard 'things about me'. But he hasn't said anything to my face, he's told all of his friends who told me. I keep waiting and waiting for him to tell me what's up but he hasn't. He's just told everyone else. Not sure what to do."
If you value your public image enough, you can confront him and try to get him to tell the truth. I recommend approaching him and getting straight to the point at a time where he's free. If he's not busy with anything else at the moment, he has no excuse to drop the conversation. Using wisdom instead of insults is the key to walking out with your head high. Start with, "It's not fair that you think you can spread rumors about me and just walk away. If you think so little of my feelings, then why did you even agree to go with me to prom?" Then try to ask him what he said about you. Of course, make the thing sound casual but firm and don't use it word for word. It's best to not sound too angry or upset; remember that you can communicate that you're hurt without elevating your voice or gritting your teeth. If he looks like he wants to run away from the situation, remind him that this is reality and not some drama TV show where he can just leave people to marinate in the suffering he's caused. If he doesn't crack, then it's healthy to walk away and vent about it with friends. Even if other people know this rumor about you, your friends are the ones that matter. After all, most people that you aren't close with in high school will never interact with you again after you graduate. Sometimes people will admire you most if you're open about how you feel but able to brush off drama at the same time.

"Do you agree with the quote, 'People hate what they don't understand?' Also, do you think this applies to humans and gives reasons to diverse identities that they will forever feel alone?"
I think this applies to those who aren't educated in acceptance the most. And while there is a psychological explanation why, it's not an excuse to hate what's foreign and refuse to understand it. It could be hating what's new, old, or outlandish, but it is most serious when it applies to hating people. So yes, it's important to make other identities visible in media and expose people to different lives. Even if older people never change, younger generations are more impressionable and will grow up with the acceptance that their parents did not. It also helps when minorities have role models to look up to, because it never hurts to have the media acknowledge your existence. The more lines dividing people are blurred, the better.