Class Spotlight: James Baldwin
Here at Village, many unique elective courses are offered that you might not find at other high schools. One of these electives currently being taught by Lauren Sullivan is the English class, "James Baldwin," which focuses on the work of this renowned author and activist during the Civil Rights movement. This class confronts many relevant, difficult topics about racial and societal issues that help students grow as individuals and well-informed citizens by showing uncovering the truth of the struggles BIPOC face in our country. The class uses Baldwin's novels, interviews, and speeches as a basis for analysis and discussion.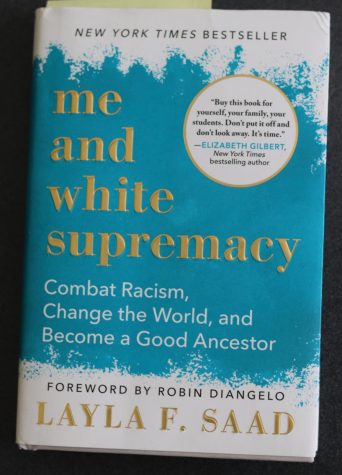 The course started off with reading Baldwin's, If Beale Street Could Talk. This novel takes place in the 1970's and follows the story of a young black couple- Tish and Fonny-  whose lives change after Fonny is imprisoned based on false allegations and almost simultaneously, Tish discovers she is pregnant. The book explores themes such as systemic racism, injustice, family dynamics, and unconditional love.  Students also kept  a journal that reflected on selected sections of Me and White Supremacy by Layla Saad, which asked them to confront and challenge their beliefs about race, white privilege, and where they each, as individuals, fit into the story of this country and our culture. Of the journals, one student shared that, "the journaling we've had to do from the Me and White Supremacy workbook has allowed me to reflect on difficult topics I used to avoid because I didn't want to place myself in a position of discomfort."
Later in the course, students were given a choice of reading one of three of James Baldwin's books including the extended essay, The Fire Next Time, and the novels Giovanni's Room and Go Tell it on the Mountain. These three books address many complex and engaging topics such as sexuality, race, religion, and systemic injustices. The class also screened the Academy-award nominated documentary, I am Not Your Negro, which is based off of Baldwin's unfinished manuscript in which he wanted to tell the story of American through the lives of his contemporaries, Martin Luther King Jr., Medgar Evers, and Malcolm X, three prominent civil rights leaders who were all assassinated. In this documentary, Baldwin's insights explore and examine the history of racism in America and offers some measure of hope that things can, in fact, change. When asking students what they've taken from this course, one remarked,  "I have learned about the bigger, systemic form of racism. I knew of micro-aggressions and societal prejudice, but had a very loose understanding of white supremacy." The honest exploration of ideas presented by Baldwin create a classroom environment where thinking and beliefs are challenged and students are urged to speak up.
"It's crucial to have these courses because we need to prepare ourselves intellectually and emotionally to face the often ugly realities of the real world," one student aptly observed. Many students, like those quoted in this article, shared these opinions. "Learning about societal issues gives us the tools to be engaged citizens and encourages us to use our voices and individual power for change."
Because of this class, students are learning to advocate for change. Although racism still continues to plague our nation heavily, courses like this one continue to contribute to making an impact on our future, because after all, the youth of this nation is our future.