Class Spotlight: National Treasures
The Wonders of America's National Parks
There are many wonders in the world, but there are none that have more stunning views and more amazing wildlife than the national parks of America. I spoke with Megan Wilvert, Village's science teacher, to learn about her elective, National Treasures, one of the many amazing classes she teaches. 
What do topics are covered in this class?
Megan: National Treasures is my class about national parks. We take a look at the ecology and geology of our nation's greatest invention: national parks. We start with Yellowstone because it was the first national park. But then we take a look at others like the Grand Canyon, Yosemite in California, and ultimately, students will plan their own national parks adventure where they research and "book" a trip of their own choice and design.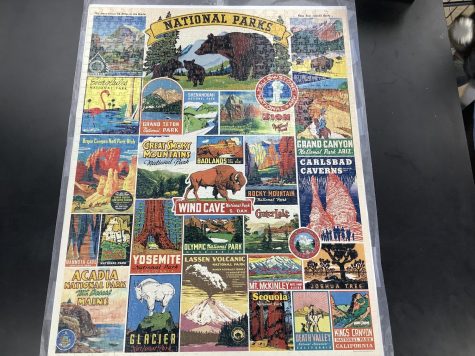 What inspired you to teach this class?
Megan: That's a good question. I've always loved the national parks. I took my first trip in 2015. I visited Yellowstone National Park, Grand Canyon, and they were just… some of the most amazing landscapes I've ever seen. And in that same trip we also visited South Dakota, so we saw Badlands National Park and Mount Rushmore which was cool, although I would not go back to Mount Rushmore. It was very "touristy"… a very tourist trap.
Jack: "So like, a lot of people and all."
Megan: "Yeah, and it was sort of underwhelming. Like you see these pictures and you think it's this large grand sculpture inside of a mountain, and it looks so much smaller in person. It's weird. And the whole history behind Mount Rushmore, long story short is we basically stole that land from Native Americans and then carved our presidents into the side of the mountain. So although really interesting and really cool to see, I probably wouldn't go back there. One of my favorite trips that we took more recently, I think it was maybe two or three years ago, we rafted down the Colorado River of the Grand Canyon, and so we got to see as each layer of the Grand Canyon grew around us, and we hiked out from the bottom of the Grand Canyon to the top on Bright Angel Trail, and so that was a really intense hike in the full heat of August, it was 115 degrees in the shade! So imagine how hot it is in the sun."
What do you intend for students to take away from this class?
Megan: I want students to have a new appreciation for the landscapes and the nature that are in our own country. You can travel to all of these amazing places without having to leave America. And I also want them to have a healthy respect for the national parks, part of what I preach is that when you go into one of these places they are true wilderness, and so you want to take out anything that you carry in with you. The old saying is: Take nothing but pictures, leave nothing but footprints. That's how I like to live my life.
Do you think your students find the class interesting?
Megan: Well, we've only just started, but I think there is a natural interest in it, especially if students have travelled to any of these places. I know that there are one or two who have been to national parks. And I do also like to bring in (like if I have extra time at the end of the period), I have a book called: Death in Yellowstone, and so it gives them another view how dangerous these places can actually be and, you know, I have all of the stories about how people have died in these national parks. I know it's a little grim, but there is a natural interest in that thing.
Do you intend to teach this class again in the future?
Megan: "Yes! This is actually- This'll be my second time at Village, but my third time teaching this class. So it is a favorite of mine, so it's definitely one to keep in my repertoire."

I am so glad I was able to sit down with Megan and learn about how much she enjoys this class– and it seems her students do as well. It is clear that our national parks are an amazing sight to behold' they are beautiful landscapes that only America can offer. From Yellowstone to the Grand Canyon, national parks around the United States are unparalleled and are worth visiting.