The Lives (and deaths) of a War Correspondent
Reporters on Site in Ukraine
Within the first month of reporting on Ukraine, an ungodly number of journalists and news reporters have been injured and even killed. Yevhenii Sakun was killed on March 1st by Russian shelling while she was operating the camera for Ukraine's live station and a TV tower was struck. She was 49 years old and is presumed the first journalist killed in the conflict.
"
"Our hearts are with all of Brent's loved ones. It is essential that journalists are able to safely cover this ongoing invasion and humanitarian crisis in Ukraine,""
— Edward Felsenthal, Time magazine's editor in chief and CEO
Brent Renuad, an American filmmaker working for Time magazine was killed March 13th when Russia troops open fired on a vehicle that he was traveling in outside of Kyiv. The 5o-year-old was focused on the refugee crisis spanning the globe.
Oleksandra Kuvshynova, a producer for Fox News, was traveling with colleagues when she was struck by gunfire. She was killed on March 14th while serving as a consultant, helping teams navigate the area, gather news and speak with sources. Her colleagues remembered her as "beautiful" and "brave".
Pierre Zakrzewski was killed while handling the camera for Fox News. He was traveling alongside Kuvshynova in the town of Horenka. At the time that there vehicle came was attacked. The assault seriously injured the journalist, Benjamin Hall, who survived the incident. Pierre was 55 years old.
Oksana Baulina was a Russian correspondent killed on March 23rd while filming the destruction reining down on Kyiv by Russian mortar shells. She had been covering the war for the Insider, an independent investigative Russian news site, which reported her death.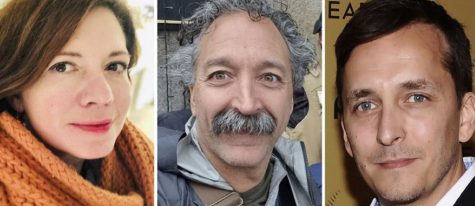 These are the three correspondents and journalists on-site that became casualties. Oksana Bualina (left), Pierre Zakrzewski (mid), and Brent Renaud (right).
Source: https://www.washingtonpost.com/world/2022/03/24/journalists-killed-ukraine-russia-war/
Leave a Comment