Devastating earthquake in Turkey/Syria kills thousands
On Monday, February 6th at 4:17 AM, a massive 7.8 magnitude Earthquake hit Turkey and Syria. As of now, Monday, February 13th, more than 34,000 people have been killed and tens of thousands injured. The UN expects the death toll to surpass 50,000 after going to assess the damage.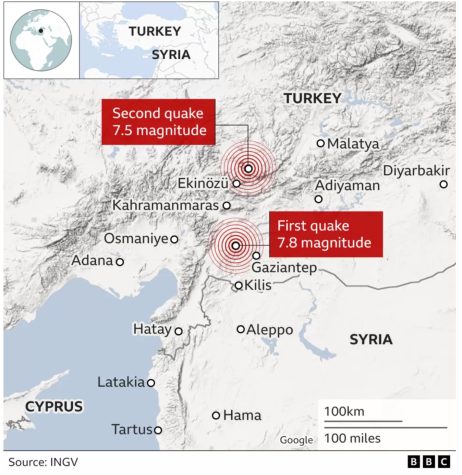 The devastation is catastrophic; tons of buildings have been completely reduced to dust and rubble. The earth quake hit near the town of Gaziantep; there were multiple aftershocks including one that was almost as strong as the actual earthquake. This quake broke along about 62 miles across the fault line, causing serious damage to the buildings near the fault.
Countries sending help
The UK has sent 76 search and rescue specialists with equipment and dogs, as well as an emergency medical team, to Turkey. Additionally, Britain has also been in contact with the UN about getting support to victims in Syria, but efforts have been hampered by poor road conditions on the only available crossing.
The U.S. has dispatched two 79-person search and rescue teams to assist Turkish officials. In addition, the US Agency for International Development has pledged $85m in life-saving relief.
South Korea has deployed a 60-person search and rescue team to Turkey, and is providing medical supplies. The government also says it is providing an initial $5m in humanitarian support.
India pledged to contribute 100 search and rescue personnel from its Natural Disaster Response Force to Turkey. They are also sending specially trained dogs and a field hospital. Medical teams with trained doctors, paramedics and essential medicines are also heading to the region.
There are many other countries who are giving their resources as well.
Resources
https://www.bbc.com/news/science-environment-64540696
https://www.cnn.com/middleeast/live-news/turkey-syria-earthquake-updates-2-10-23-intl/h_5bea93d1c3136eec24df087f137c4dd8
Where to donate
https://www.google.com/url?sa=t&rct=j&q=&esrc=s&source=web&cd=&ved=2ahUKEwiZlcXerpX9AhXcElkFHXGDAPEQFnoECAwQAQ&url=https%3A%2F%2Fwww.redcross.org%2Fabout-us%2Fnews-and-events%2Fnews%2F2023%2Fred-crescent-teams-responding-to-earthquake-in-turkey-and-syria.html&usg=AOvVaw2MNjgK52avjGQZ1z3TSPis