A Brief History of Wristwatches
– And What You Might Like For Yourself –
Watches come in many shapes, sizes, and styles, with a variety of functions and purposes. There are two main types of watches, electric which are typically battery and/or solar-powered, and mechanical, which are winded and/or movement powered.
History Of Watches
Nowadays, watches are worn more for style and interest, than functionality, since people always have their phones on them. Though it's quicker to look at your wrist than to take your phone out of your pocket. Before there were wristwatches, there were pocket watches, that as you would guess, were kept in the pocket, and were usually connected to the pocket by a small chain to avoid dropping. Wristlets were the first watch worn on the wrist, they were worn by wealthy women and were very small, looking like bracelets, hence the name wristlets. Men started wearing wristwatches in WW1 when they became necessary for precisely timed coordinated attacks since they did not have time to take a watch out of their pocket. The soldiers that survived the war became accustomed to wearing watches on their wrists, leading to them gaining popularity and becoming the preferred medium of timekeeping.
Watches For Your Budget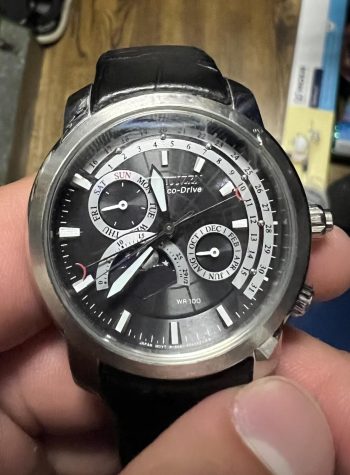 What to look for in your first watch? Most people's first watch is inexpensive, there are many good budget watches if you know what you want. If you are looking for something inexpensive, with digital and/or analog, one of your best options is Casio, if you want analog you can't go wrong with the Gshock GA2100, or for digital, the Casio GMWB5000D-1. If you're willing to spend more the Tissot PRX might be a good option, it has both automatic and quartz movements and is very popular for a reason. A watch I can personally vouch for is the Citizen AP1001-19E which runs on solar power and looks great with anything. For a high-end watch, The Omega Speedmaster is an amazing classic, it's even good enough for Nasa astronauts and has been worn on many missions. For something with a simpler yet stunning design, the Rolex Milgauss might be a perfect option.
There is a watch for everyone, and hopefully, this article has helped you in finding yours.