Eggplant Lasagna
The recipe for this class was eggplant lasagna. Jessie and Jack were assigned as the two chefs.  They helped to make this dish by slicing the eggplant, brushing the seasoned oil on both sides of the eggplant.  The chefs are supposed to instruct "their team" small jobs. Jonah was asked to cook the mushrooms; he sautéd them! The team warmed up the sauce and then layered the eggplant, cheese and sauce before popping into the oven.
Ingredients
2 large eggplants, sliced lengthwise 3/4- inch thick (8 slices)
5 tablespoons olive oil, divided plus more for baking dish
Coarse salt and freshly ground black pepper 1 cup thinly sliced cremini mushrooms
2 garlic cloves, minced
1 tablespoon freshly chopped thyme leaves 1 (15-ounce) container whole milk ricotta cheese
3 large eggs
1 cup grated Parmesan, divided
2 tablespoons freshly chopped oregano leaves
2 cups Marinara Sauce
Directions
-Preheat oven to 400 degrees F.
-Arrange sliced eggplant in a single layer on 2 sheet pans. Brush on both sides using 3 tablespoons of oil and season with salt and pepper. Roast the eggplant until it is soft and golden. Turn slices halfway through, about 25 minutes.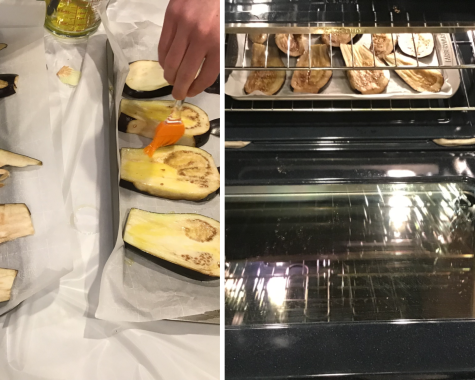 -Meanwhile, in a medium skillet add the remaining 2 tablespoons of oil and the sliced mushrooms. Saute until soft for about 7 minutes. Add the minced garlic and chopped thyme. Cook for another 2 minutes. Once the mushrooms are cooked remove and set aside to cool.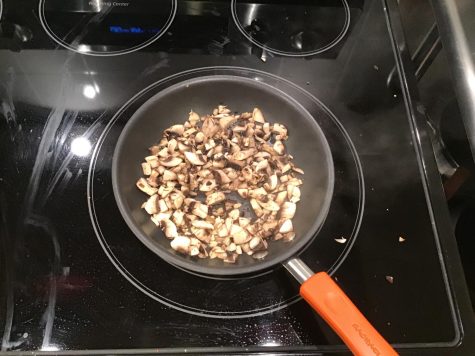 -In a large bowl add the ricotta, eggs, 1/2 cup Parmesan, oregano, mushrooms, 2 teaspoons of salt and 1/4 teaspoon pepper. Mix well. Brush an 8-inch baking dish with oil.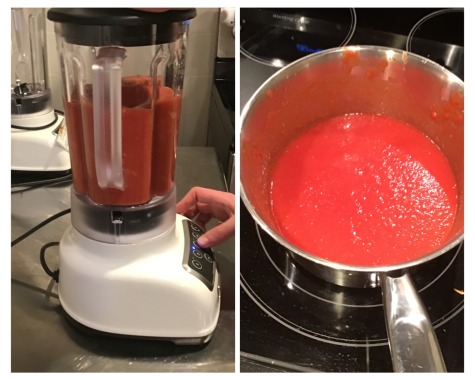 -Spread half of the marinara sauce on the bottom of the prepared baking dish. Lay 4 slices on top followed by the ricotta mixture. Lay another 4 slices of eggplant and finish with marinara sauce. Top with the remaining 1/2 cup Parmesan. Bake until golden brown, at 350 degrees, for 30 minutes.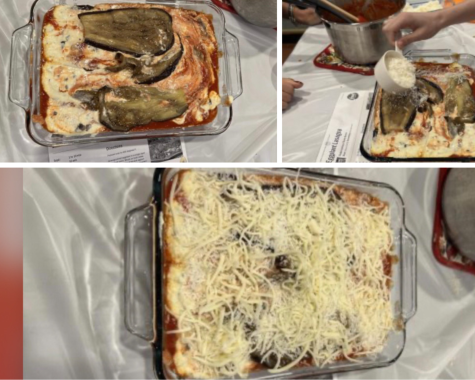 We've made this tomato sauce in the past, but when making this recipe, we learned how to perfect it. The first time we made the sauce it was too sweet because of the carrots we added. Plus, I was unable to try it because of my allergy to carrots. The second time we made the sauce we added too many onions and made did not taste so good, the whole class agreed we need to use less onions. The last time we made this sauce was when we made it for this eggplant lasagna. We fixed our previous mistakes by omitting the carrots and using less onions.
Next time the class agreed that we should make the  eggplant slices thicker because it was cut a little thin and it fell apart.
Here is a link to the recipe we used: ://www.foodnetwork.com/recipes/danny-boome/eggplant-lasagna-recipe-1953131