Crispy Potato Roast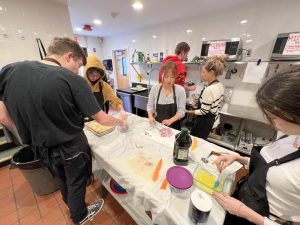 On March 6th and 7th, the Cooking Class at Village made a Crispy Potato Roast! Following Martha Stewart's recipe, we first combined butter and oil in a small bowl and brushed the bottom of our dish. We then peeled and thinly sliced our potatoes and stuffed them into the pan vertically, creating neat rows.
Preparing for the next step, we thickly sliced our shallots, chopped our thyme, and measured out red pepper flakes. After preparing our seasoning, we wedged the shallots between the potato slices and sprinkled the red pepper on top before baking it at 375 degrees for an hour and fifteen minutes. After that, we added the thyme and baked it for another 35 minutes.
Ingredients
3 tablespoons unsalted butter, melted

3 tablespoons extra-virgin olive oil

4 pounds russet potatoes, peeled

4 shallots, thickly sliced lengthwise

coarse salt

1/2 to 1 teaspoon red-pepper flakes (optional)

8 sprigs thyme
Directions
Preheat oven to 375 degrees. In a small bowl, combine butter and oil. Brush bottom of a round 9-inch baking dish with some butter mixture. With a sharp knife or using a food processor like we did, slice potatoes very thinly crosswise.
Arrange potato slices vertically in dish. Wedge shallots throughout. Sprinkle with salt and red-pepper flakes; brush with butter mixture. Bake 1 1/4 hours. Add thyme and bake until potatoes are cooked through with a crisp top, about 35 minutes more.
Results
After it finished baking, we let it cool down before diving in!
The final result was pretty good! While we all agreed it could've been a bit crispier and had fewer shallots, the result was still quite tasty!
"
The crunchy wasn't crunchy, it was a chewy crunch."
— Jessie Boshnack-Roth