Disney Sues Florida Governor Ron DeSantis
The feud between Disney and Florida started when Disney criticized the "Don't say gay" bill, a law signed by DeSantis that banned classroom instruction on gender identity and sexual orientation for younger children.
In 2022, Florida's Senate passed legislation to limit instruction on gender identity and sexual orientation from kindergarten to third grade, enabling parents to more easily sue schools. The day after, former Disney Chief Executive Officer Bob Chapek said he opposed the legislation. He tells investors he had called DeSantis that morning to "express our disappointment and concern." A few weeks later, Disney issued a statement saying the bill "should never have passed and should never have been signed into law."
On April 19, DeSantis asked the state's legislature to terminate special privileges granted to Disney World and its associated theme parks in the area. For over 50 years, the Reedy Creek Improvement District, a local governing and particular tax jurisdiction, gave Disney significant autonomy to manage daily operations. Within hours, bills were filed in the Florida House and Senate.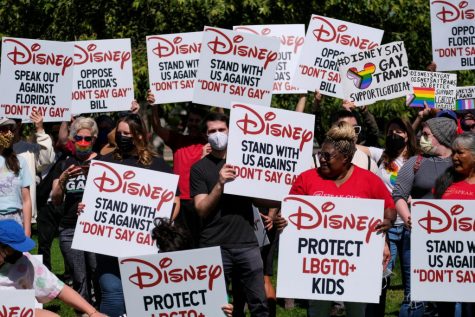 On April 22, DeSantis signed the law to strip Disney of its privileges starting June 1, 2023 (ironically, the beginning of pride month.) "If Disney wants to pick a fight, they chose the wrong guy." However, on December 3, A Florida legislator said that lawmakers are considering revoking some of the privileges.
At Disney's annual meeting, Chief Executive Officer Bob Iger says the policies for the theme park have been "not just anti-Florida, but anti-business." He claimed that a company should have a right to freedom of speech just like individuals do.
On April 26, Disney sued DeSantis, alleging he was threatening billions of dollars in business. The lawsuit was filed in federal court in Tallahassee.
This was inevitable in this ongoing issue, and outcome is yet to be known.