Brownies
We tried making regular brownies and gluten free brownies. This recipe was for the regular brownies and it was super easy to follow and simple to make. These brownies turned out to be the classic and delicious snack we all love. Even students who were not in the cooking class were drawn in by the rich and sweet scent that filled the whole school. This recipe is perfect for a dessert to be shared with friends and family. Many of these ingredients can be found in your pantries at home. Students and teachers alike both enjoyed our brownies, and we hope you do as well!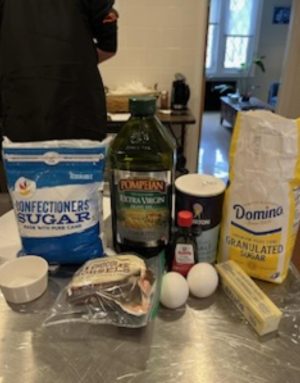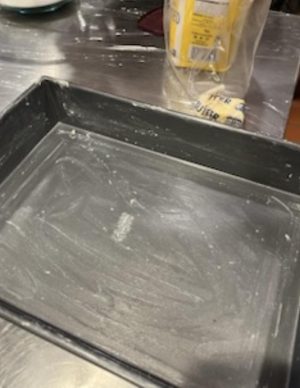 Recipe from https://www.loveandlemons.com/brownies-recipe/
Equipment
8×8 Baking Dish (this is the one I use so they don't overcook)
Cooking Spray (I love this avocado oil one from Chosen Foods)
Parchment Paper (this makes it so much easier to remove the brownies from the pan)
Ingredients
1 1/2 cups granulated sugar*
3/4 cup all-purpose flour
2/3 cup cocoa powder, sifted if lumpy
1/2 cup powdered sugar, sifted if lumpy
1/2 cup dark chocolate chips
3/4 teaspoons sea salt
2 large eggs
1/2 cup canola oil or extra-virgin olive oil**
2 tablespoons water
1/2 teaspoon vanilla
Instructions
Preheat the oven to 325°F. Lightly spray an 8×8 baking dish (not a 9×9 dish or your brownies will overcook) with cooking spray and line it with parchment paper. Spray the parchment paper.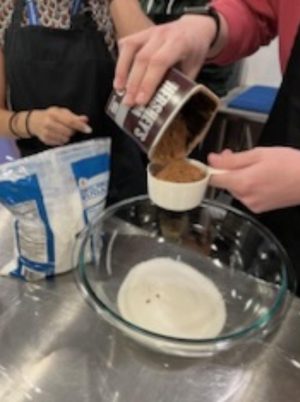 In a medium bowl, combine the sugar, flour, cocoa powder, powdered sugar, chocolate chips, and salt.
In a large bowl, whisk together the eggs, olive oil, water, and vanilla.
Sprinkle the dry mix over the wet mix and stir until just combined.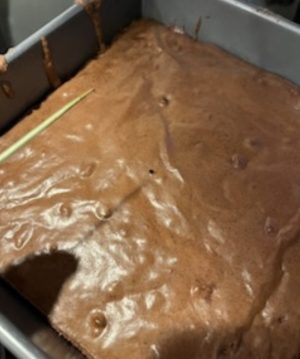 Pour the batter into the prepared pan (it'll be thick – that's ok) and use a spatula to smooth the top. Bake for 40 to 48 minutes, or until a toothpick comes out with only a few crumbs attached (note: it's better to pull the brownies out early than to leave them in too long). Cool completely before slicing.*** Store in an airtight container at room temperature for up to 3 days. These also freeze well!