Putin Mocked as Only One T-34 Tank Appeared in Moscow's Victory Day Parade.
---
On Tuesday, May 9, Russia celebrated its 78th Victory Day parade, commemorating their defeat of Nazi Germany in World War II. It is arguably one of the most important days on Russia's public calendar. However, this year's parade was particularly underwhelming.
At the Red Square, Putin delivered a morose speech that hardly lasted 10 minutes. He defended his rationale for the Kremlin's full-scale invasion of Ukraine and pledged that his troops would ultimately succeed, while the military hardware on show indicated that the Russian armed forces are struggling to obtain sufficient resources.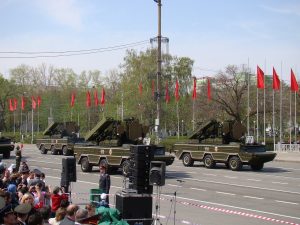 Moscow's Victory Day parades typically include thousands of Russian soldiers marching through the Red Square, along with hundreds of military vehicles. However, this year's parade was noticeably smaller than those in previous years, as celebrations across the country were either canceled or cut short. Political analysts claim that Russia's scaled-down military parade revealed not only Moscow's insecurities over possible Ukrainian attacks but also highlighted the country's depleted military resources due to conflict. The absence of tanks raised eyebrows as many mocked Putin and the Kremlin over their one-tank military parade, seeing it as an embarrassment for Russia.
Peter Dickinson, editor of the UkraineAlert blog at the Atlantic Council, comments, "It would be hard to image a more fitting symbol of Russia's declining military fortunes than the sight of a solitary Stalin-era tank trundling across Red Square during the country's traditional Victory Day celebrations on May 9." The Ukrainian Defense Ministry's official Twitter account even tweeted, "modern Russian military equipment can be found much more easily at Ukrainian military trophies exhibitions than at the Victory Parade in Moscow.
Sources:
https://www.politico.eu/article/russia-downbeat-vladimir-putin-slams-at-low-key-victory-day-parade-celebrations-moscow-kremlin-ukraine-war/
https://www.cnbc.com/2023/05/10/putins-one-tank-military-parade-was-an-embarrassment-for-russia.html