Mac and Cheese
This time in class, we made macaroni and cheese.  Jessie and Salem were the two chefs who were assigned to make this recipe. Jonah helped to melt the butter and oil and combine flour into a pot. While Jessie added the milk and the cheese later on and put the cheese mixture on the macaroni. 
Ingredients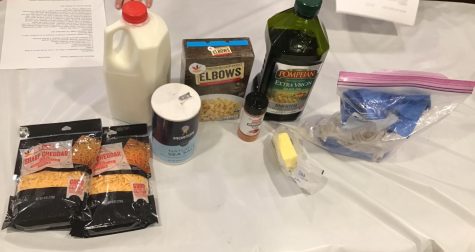 -1 tablespoon vegetable or olive oil, 1 turn of the pan in a slow stream
-2 tablespoons butter
-3 tablespoons flour
-1 1/2 cups whole or 2 percent milk
-3 cups shredded white cheddar cheese
-1/2 teaspoon nutmeg, ground or freshly grated
-1/4 teaspoon ground cayenne pepper, a couple pinches
Salt
-1 pound elbow macaroni, cooked 8 minutes or to al dente, with a little bite to it 
Directions 
Heat a medium, deep skillet over medium heat. Add oil and butter. When butter melts into the oil, add flour and combine.
Gently cook, whisking flour and butter together, until smooth and flour has had a chance to cook, about 3 minutes. Slowly add milk while continuing to whisk.
Gently bring milk to a bubble while stirring frequently. Allow the milk to thicken a bit, then stir in 2 cups of shredded cheddar cheese a handful at a time. Season sauce with nutmeg and cayenne. Taste and add a little salt, if you like. Add cooked pasta to sauce and coat completely by turning over and over in the cheese sauce.
Transfer to a baking dish and top with remaining cheese. Place the baking dish under a hot broiler and brown the cheddar cheese on top.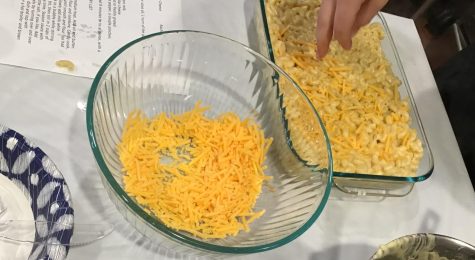 This dish turned out to be a huge success because it was delicious and had the perfect amount of cheese, and everyone thoroughly enjoyed it. In my opinion, I think that the only thing the Mac and cheese needed was a little salt, but other than that, it tasted great.
Here is a link to the recipe we used: https://www.foodnetwork.com/recipes/rachael-ray/macaroni-and-cheddar-cheese-recipe-2131153