Village School's Annual "iHop and Bowling Trip"… But a Bit Different
Every year, Village School goes on the "iHop and Bowling" trip. This year was different though, as we decided to go to a proper Long Island diner instead of iHop before heading to bowling. It was a bit unfortunate, since at the day of the trip I was actually craving a nutella crepe, which they served only at iHop.
At the diner, my table ordered different things to eat; even though it was just after 10 AM, we all went for lunch items rather than breakfast. I ordered buffalo wings and mac and cheese, Taylor ordered mozzarella sticks and a tuna melt, Arielyn ordered an empanada, and… Emma ordered the same thing as Arielyn (they're best friends though, so this was expected). I personally thought the mac and cheese was terrible, but at least it's very hard to mess up buffalo wings, so not all my faith was lost. Taylor said her tuna melt was gross and too cheesy, and Arielyn complained about too many onions in her empanada. Emma didn't say anything about her food. Overall, we were kind of disappointed about the diner experience, but we still had high hopes for bowling.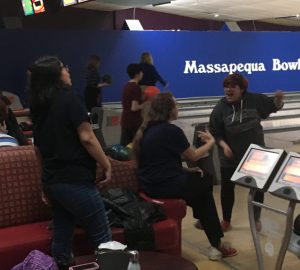 When we arrived at the bowling alley, I was at Lane 10 with Phoebe and Danielle, and Emma, Arielyn, and Taylor were in Lane 9. Emma kept winning multiple times in Lane 9, and Danielle won twice on my lane. I struggled with the bowling ball because I kept picking up the really heavy ones (I struggled with anything over a few pounds). At least I managed to get a strike at some point, though!
The trip wasn't my favorite, but it was still fun to spend the day with friends without the stress of actual school classes.