Village School Launches Bella's Boot Camp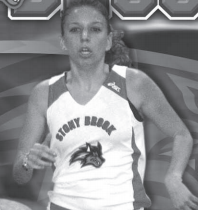 Village School is officially announcing Bella's Boot Camp, a running group open to all students and faculty. The club has been created in honor of Senior Bella DeCeglie's desire to become more physically fit before joining the army next year. Those who choose to join the club will train alongside Bella, completing activities each week according to a regimented schedule adapted for fitness level. Participants are not required to practice together but are asked to achieve goals on their own time and to their own ability. The club, organized by Lauren Sullivan, will help Village students and teachers attain physical and mental well-being, learn how to create and accomplish goals, and improve confidence and self-image.

"Having been a runner since I was 12, I can attest to how self-gratifying it can be to set a goal, work toward it, and achieve it," says Lauren. "The sport is not about competing against others, it is about challenging yourself. You can decide how competitive you want to be, an can adjust your standards as you go."

Since members of the club will have varying degrees of athleticism, they can choose whether to use None to Run or one of Hal Higdon's 5K programs. None to Run is intended for those who do not currently run or do vigorous exercise. This plan requires just 3 running days per week and gradually builds endurance and speed. Hal Higdon's 5K programs are intended for those who are already reasonably active and are comfortable running a few miles at a time. These programs come in various levels, so more experienced athletes can select more challenging schedules.

Training culminates in the Bolla Charity 5K race, which will take place on June 15th in Eisenhower Park at 9 am. While completing the race is optional, it is strongly encouraged. The event is a chance for participants to flaunt their hard work and demonstrate their school spirit! In addition to the race itself, the event includes festivities and refreshments. If a vast post-race spread of chips, protein bars, and ice cream does not sufficiently motivate you, then you can look forward to a swag bags (to serve as evidence of your participation) and raffle prizes.

If intent on winning, then group members can further strive to be among the fastest three in one of the following age categories: 14 & Under, 15-19, 20-24, 25-29, 30-34, 35-39, 40-44, 45-49, 50-54, 55-59, 60-64, 65-69, 70-74, 75-79, 80-84, 85-89, 90+. While contestants have to place in the top three to obtain a medal if 15 or older, those 14 or younger automatically achieve medals when they complete the course. The top three runners across all age categories receive monetary prizes. First, second, and third place are awarded $1,000, $500, and $250, respectively.

If interested, ask Lauren, and she can add you to the Bella's Boot Camp Google Classroom page. For more information about the race itself, you can visit the following URL: