Introducing Evan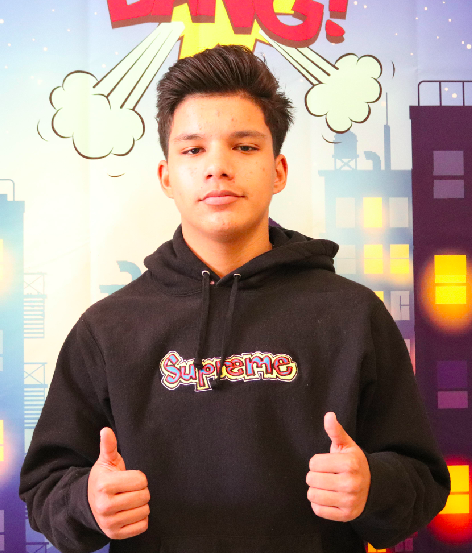 One of the newer students here at Village is Evan Villavicencio. He is in 11th grade and previously attended John F. Kennedy High School, part of the Plainview- Old Bethpage district.

Evan is a very athletic individual. His main sport has been soccer and he plays right outside back or right defense. He began playing when he was just five years old. He was inspired to play by his Grandfather, who was a professional soccer player in Ecuador. "When he moved to America, he started teaching my Dad how to play. Growing up with an Ecuadorian family, soccer has been in my blood." One of his fondest moments in soccer was when his team won the State Championship. "We scored late in the second half to go up 1-0. It was a close game but with around 10 minutes left I put in a cross and we scored another one, sealing our win."

More recently, Evan has taken up running. He would eventually like to run a marathon. "My Dad and Grandpa run the NYC Marathon together every year. I have been watching them train and finish the marathon for as long as I can remember. I started running to stay in shape for soccer but also to follow in my Dad's and Grandpa's footsteps. It would be cool to run the marathon with them one day."

Evans favorite subject in school is English. "Some of my hobbies include reading and writing so to me, English doesn't really feel like a class but more of another chance to get better at what I like doing." Evan also likes history because he thinks it's important to know how things came to be. "I think that it is immensely important for us to learn history so that we can learn from the past and better understand what lead up to everything going on in today's world."

Evan says that he is glad to be here at Village. He likes the smaller class sizes, the ability to get to know teachers, and the interesting electives, "these [electives] allow for the students to think and learn in a way different than those at other schools. I take Real News/Fake News with Jeff and Oh God with Sam. Both classes are very interesting and the material learned is an opportunity that I wouldn't have at my old school. " Village's small school setting is what originally appealed to Evan. "The size of the student body [was] a huge positive for me. With thousands of students at my old school, it was easy to get distracted and not focus on what really mattered."

Evan has become part of our Village family. We are just as happy to have him, as he is happy to be with us. He immediately opened up to the students and teachers here, and now calls them his friends.