The Festival of the Arts – A Very Fun Day At Village
On the last day of classes before spring break, Village School had its annual Festival of the Arts. Festival of the Arts is special because students get to showcase their talents and interests for peers and teachers. The day is organized by students and made possible by student enthusiasm and participation. 
The day was divided up into 25-45 minutes sessions for workshops and performances, with two- three different workshops running per session; students had a choice as to  which workshop they wanted to attend. For performances, the entire school would join together; no other sessions went on during a performance.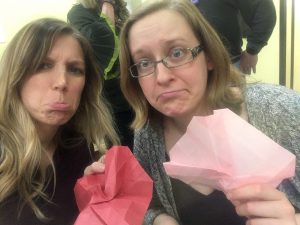 One workshop was an  introduction to origami, led by Margaret. In this workshop, the students were taught how to fold an origami rose. They were given the choice of what color they wanted their roses to be as Margaret brought in a large variety of colors. Although some projects didn't turn out as well as others, the students in this workshop enjoyed and introduction to the precision needed for origami folds.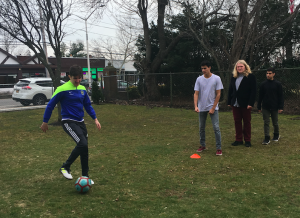 Another workshop was a soccer workshop held on the front lawn. David taught different soccer drills to students including learning the proper way to dribble and pass the ball. The students in this workshop also did different stretches and warmups before doing any drills. David could not teach shooting drills, as the space on the front lawn did not permit. Despite this, the Village School students in this workshop had fun and got in a quick workout!
A third workshop was a presentation by Rose. Rose brought in Cogsworth, a rat from her animal care program at BOCES. Her presentation was full of interesting facts about rats and was very detailed. The students in this workshop learned things about rats that they never knew before. Some of these facts included the lifespans rats, the maximum weight rats can weigh, and how to properly care for an adult rat. Rose's goal was to debunk fears and myths people have about rats and in the end, she seemed to do just that with many students lining up to meet and pet Cogsworth after her presentation. 
A fourth workshop was cooking, led by Alexia and Ronni. The students made pizza in the kitchen during this workshop. It took teamwork to cook the pizza and was an excellent experience. While a student blended the tomatoes to make sauce, other students floured and stretched the dough. Then some students poured on the sauce while others put cheese on the dough. Then it was spread out in pans and baked in the oven. The pizza came out delicious and everyone at Village was invited to try it.
Other workshops included paper marbling in Megan's room, board games with Emma and Danielle, and beading with Margaret later in the day, both in Ronni's room. Ryan gave two presentations entitled, "Intro to Documentary Theory," and "Art Movements in Film."
There were also some student performances in the gym. Amanda sang "Creep," and was accompanied by Max on the guitar.  Kayleigh then sang "Landslide," and then paired with Max in a performance of "December, 1963." Afterwards, Matt performed "Chasing Cars." Later on in the day, the author of this article, Britt, played guitar and sang an original song. 
Festival of the Arts was a really fun day at Village and everyone is already looking forward to what's in store next year!