On a cold Thursday evening, women and girls of all ages filed into the entrance of the Islamic Center of Long Island. After signing in, attendees were free to roam around, mingle, and buy tickets for an expansive layout of raffle prizes before the main program began at 8 pm. In addition to the palpable positive energy present in the room, colorful decorations and delicious food catered by Ayhan's Mediterranean Marketplace made for a festive occasion.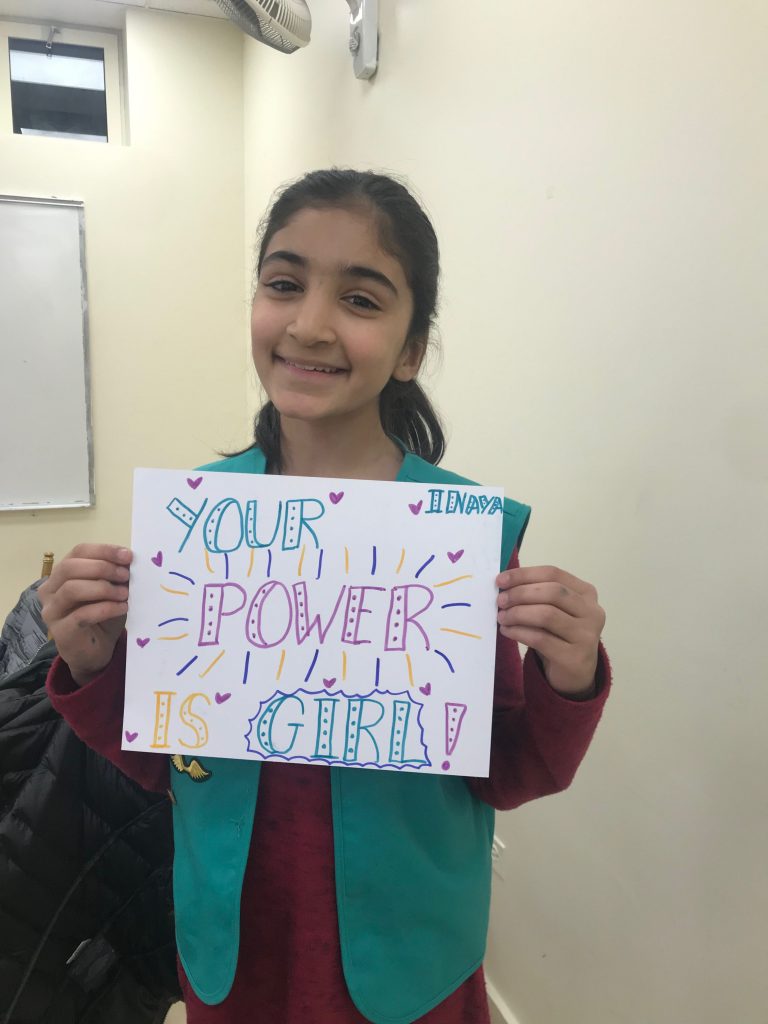 The event, hosted by One World Girl, celebrated the Second Annual International Women's Day Dinner for the budding nonprofit organization. The dinner raised necessary funds for One World Girl 2019 programming that "empowers, educates and champions every girl to live her unique life story and to become a changemaker in her community and the world."

Polly Haas, Coordinator of the Youth Advisory Council for One World Girl, was excited to see months of planning finally come to fruition. "Something special comes alive when women lift each other up," she told me. "There is something so exciting and empowering about being in a room filled with strong women with the common understanding that we're in this together."

After an introduction from President and Executive Director of One World Girl Lesley Mazzotta, three guest speakers brought the audience to enthusiastic applause. Ms. Zainab Bey, Vice President of the Islamic Center of Long Island, spoke about how after a distinguished career in education, she had indeed "grown into her Supergirl outfit."

As a retired educator from the New York City Department of Education, where she worked for 33 years, Ms. Bey is no stranger to male-dominated conference rooms where the voices of minorities are often suppressed. She spent 12 years serving as the Community School District Superintendent and was one of the only women to have attained this position. Ms. Bey also served as a deputy superintendent, school principal, assistant principal, and a teacher, instructing students with disabilities as well as adults preparing for their high school diplomas.

Ms. Bey ended her speech by acknowledging that although her Supergirl outfit had stretched and worn over the years to accommodate her different pursuits and professions, the suit was still with her – forever a part of her – and she was grateful to all of the strong females (and supportive males) who had sewed her suit together and mended its tears.

Esther Fortunoff, President of Fortunoff Fine Jewelry, spoke next about her role in creating a work environment ahead of its time in its accommodation for the needs of working mothers.
Ms. Fortunoff was the third generation to enter the family business and rose to executive vice president of the retail chain's fine jewelry division. In 2002 the chain consisted of more than 3,000 employees, 11 locations and more than $400 million a year in sales, she said.

The chain closed in 2009, after being sold to private equity firms twice and filing for bankruptcy twice. However, Ms. Fortunoff and her family were quick to rebound from their loss, buying the intellectual property rights and brand name at auction. In 2010, she established the e-commerce business FortunoffJewelry.com, and in 2014, opened Fortunoff Fine Jewelry in Westbury, the original home of the company's flagship store.

Ms. Fortunoff made it a point to hire a majority of female employees in all of the business, which was unusual in the jewelry industry at the time. As a result, she instituted flex time, part-time and split shift positions, so that women could work and also raise their families.

She summed up her message to the audience by saying that it is normal, even healthy, to experience failure occasionally. Although it can be discouraging to hit rock-bottom, these moments are when you learn to stay strong and be resilient. Often, she said, you will find that these are the moments that allow you to reinvent yourself, to adopt new perspectives, and have a fresh start.

Sydney Ginsburg, President of the One World Girl Youth Advisory Council, ended the trilogy of speakers by talking about the importance of International Women's Day. In response to the commonly-asked question of why there is no "International Men's Day," Ms. Ginsburg told the audience, "It's true that there are many issues in today's world that affect people regardless of gender. But historically, women and girls have not been offered the same investment, attention or opportunities as men, so it's important for us to gather to support one another, improve our rights and celebrate the milestones. Women deserve to live in a world where they wake up every day knowing they won't be restricted by their gender and people won't make judgments on the decisions they make to pursue their dreams."

Next, Changemaker Citation Awards recognizing outstanding leadership and service were presented by Sunita Manjrekar, Director of Employment Programs at Nassau County. Annabel Cohen, Samar Iqbal, Kyra McLaughlin, Kaithlyn Sanchez, and Ella Siff-Scherr were the five special girls honored for their dedication to making change in their communities.

The evening ended with a joint-speech from Madeline Singas, District Attorney of Nassau County, and her daughter Deme. Each commended the determination and conviction that the other had demonstrated.

Mrs. Singas, for example, spoke of Deme's confidence on the basketball court, admitting that she had been inspired by Deme's commitment to her team and her knowledge of when to take charge of the ball and when to pass it to her teammates. A true leader, Mrs. Singas hinted at, is someone who is in tune with the people she is leading and knows her limitations.

Deme too showed gratitude for the support her mother had provided. In addition to motivating Deme to live up to her potential and cheering her on every step of the way, Deme's mother has always been an excellent role model. After accompanying her mother on the campaign trail, Deme came to understand the full extent of her strength of character – it was evident in the way she conversed with strangers, her relationships with her campaign staff, and her confidence in herself and what she stood for.

The exchange was touching – especially since Deme and Mrs. Singas had not revealed their speeches to each other prior to the event – and signified the importance of surrounding yourself with strong females (whether older or younger) who empower you and encourage you to be the best version of yourself.

"It was a joy to see so many women and girls at our dinner. There is incredible power and possibility when a group of diverse people comes together to share stories, learn from each other and celebrate our uniqueness," said Ms. Mazzotta after the event had concluded. "I hope every woman and girl left inspired to live more fully and help make a positive change in her community."