South Extends 28 Year Win streak Over North in Track and Field
On Tuesday, May 3 Great Neck South beat Great Neck North for the 29th year in a row in track and field, with a score of 70-40.
In sprints, freshman James Klein broke 12 seconds for the first time in the 100m with a time of 11.9, just behind senior Derek Wong with a time of 11.8.
In distance, both Mario Jimenez and Alan Gu broke the 5 minute mark in the mile, with times of 4:57.6 and 4:56.9, and Edison Won broke 11 minutes in the 2 mile, with a time of 10:58.7.
On the field, Chris Lum and Calvin Chang got 3rd and 2nd in long jump respectively, with jumps of 18' 0 and 18' 5 1/2. Lum also scored 1st in triple jump with a jump of 39' 10 and Chang scored 2nd in high jump with a jump of 5' 8.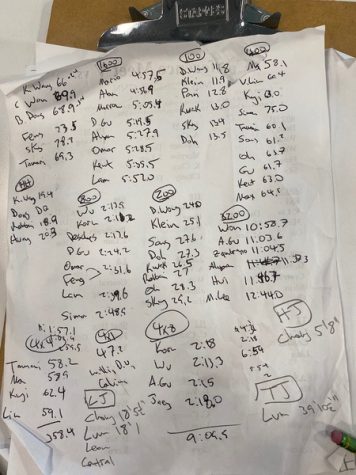 In relays, South got second in the 4×400 (Nathan, Daniel, Nolan, Victor) and a very close first in the 4×800 (Jared, Alex, Alan, Jay)
The biggest performance of the day was the 4×100 team (Willy, Derek, Calvin, James), who won for the first time this season by a landslide with a time of 47.2.
Check out some clips from the meet here: Video Gallery