Congrats Josephine Chan!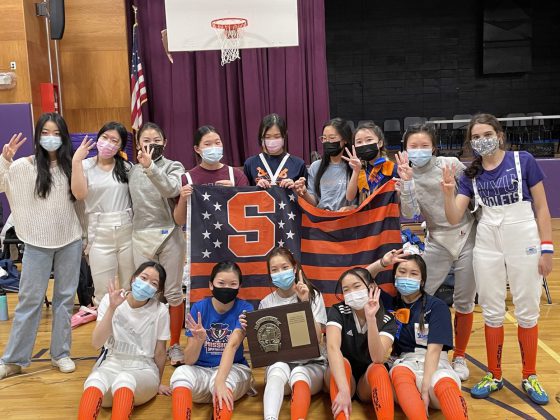 Josephine Chan (a Village senior) is Part of the Great Neck South girl's fencing team. On February 26th she and her team attended the 2021 Nassau County Championships.
As stated on the Great Neck Public Schools website, "The Lady Rebels defeated Oyster Bay by a score of 14-6 at the championships to capture their third-consecutive Nassau County crown. This marks the first time in more than 20 years that a fencing team has won three consecutive championship titles."
Furthermore, individual honors were awarded. Josephine received the All-County Honorable Mention for the girl's team.
Interview with Josephine:
1. We're you nervous before the match?
Response: Oh hella. I especially get nervous right before I get onto the strip. It's a 1v1 sport. You could feel the whole gymnasium go quiet while watching you; it's mad intense. With every point you acquire and lose, everyone starts cheering and screaming at you on what to do next. The pressure is insane. A major part of fencing and almost every sport is mentality. My coach often tells me to meditate before our meets to calm myself down. It actually helps a lot.
2. What brings you the most joy? Seeing your team progress or winning? Both?
Response: Haha of course we'll win!!! There's no doubt about my fencing team being the best in Nassau County. My team won county championships for the third time in a row, beating the record. And usually, we go undefeated too—just like this season. In all truth, my team brings me joy whether we win or lose. There are times when we cry because we didn't do well, and then there are times we celebrate because we performed exceptionally. That's what being a part of a team is all about. We've made so much progress throughout the four years I've been on this team and it makes me very happy that I got to witness our growth.
3. Were you expecting the win and honorable mention?
Response: Not to sound cocky, but well before the County Championships Finals, our team already knew we'd bring home our victory. I'm currently ranked 8th for Foil girls in our county. I didn't expect an honorable mention at all, but at the same time, I'm not satisfied with just an honorable mention. There's so much more I need to work on to improve my fencing skills, both mentally and physically. I can only get better from this point on.
4. As a senior about to graduate, will you continue fencing in college?
Response: Not a lot of colleges have fencing teams. But I definitely plan on competing outside of college and continuing on with a club.