Xi Jinping's Visit to Moscow and What Came Out of It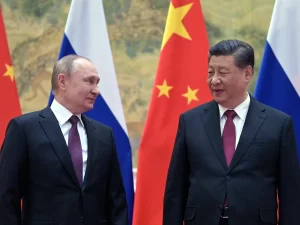 On the 20th of March, Chinese President Xi Jinping met up with Russian President Vladimir Putin in Moscow during his 3-day summit in Russia, with the purpose of positioning Beijing as a potential mediator in regard to the Russia-Ukraine conflict. Upon arrival, Xi received red-carpet treatment as well as a warm welcome from President Putin. Putin commended Xi for China's growth in recent years, saying, "we even envy you a little." The two engaged in friendly and fruitful talks during their 4 hour meeting held at the Kremlin.
Xi's push towards peace
President Xi, referring to Putin as his "most intimate friend," showed strong solidarity with the Russian leader against the west, but hardly spoke of the conflict with Ukraine. President Xi said that China has an "impartial position" in relation to the war in Ukraine. Still, the White House claims China's position was not impartial, urging Beijing to pressure Russia into withdrawing from their invasion of Ukraine. Putin claims he had "carefully studied" China's proposal to end the war for the "sovereignty of all countries" and is open to talks for peace. Still, President Putin believes this does not call for withdrawing Russian troops from Ukraine. As of now, Xi's efforts as peacemaker yielded no meaningful results for the war in Ukraine. 
A boost for Russia
Xi and Putin signed and released the Joint Statement of the People's Republic of China and the Russian Federation on Deepening the Comprehensive Strategic Partnership of Coordination for the New Era. As Putin is shunned by Western leaders and the rest of Europe, Russia has grown more reliant on China as an import market and an exporter of electronics. Recently, Russia surpassed the United States as China's top oil supplier, and China now accounts for nearly a third of all Russian exports. Following his meeting with Putin, Xi called for greater cooperation in areas such as energy and supply chains.
Sources:
https://www.wsj.com/articles/chinas-xi-arrives-in-moscow-as-beijing-seeks-to-position-itself-as-a-peacemaker-8f11d364
https://www.cnn.com/2023/03/22/europe/china-xi-russia-putin-talks-five-takeaways-intl-hnk-mic/index.html
https://www.fmprc.gov.cn/eng/zxxx_662805/202303/t20230322_11046088.html